The following is a list of weapons featured in POSTAL 2 and its expansions.
While there are many weapons that originally come from Eternal Damnation, they are listed separately with any overlap placed in AWP/POSTAL 2 Complete or Paradise Lost (as the later has them hidden as special weapons).
Main Article: Weapons in Eternal Damnation
Likewise a full list M@DJ@cK@L content which was used extensively in AWP can be found in the link below.
Main Article: M@DJ@cK@L
[UO] indicates an unobtainable weapon.
Melee Weapons
Edit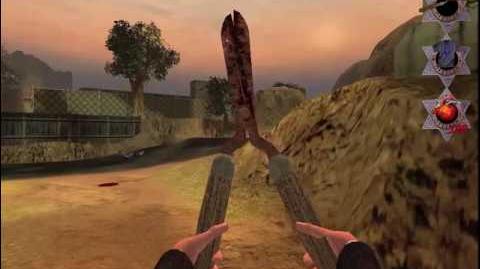 POSTAL 2
Edit
Apocalypse Weekend
Edit
Corkscrew RuLes
Edit
AWP/POSTAL 2 Complete
Edit
Paradise Lost
Edit
POSTAL 2
Edit
Corkscrew RuLes
Edit
AWP/POSTAL 2 Complete
Edit
Paradise Lost
Edit
Shotguns
Edit
POSTAL 2
Edit
AWP/POSTAL 2 Complete
Edit
Paradise Lost
Edit
Machine guns
Edit
POSTAL 2
Edit
AWP/POSTAL 2 Complete
Edit
Fuel based
Edit
POSTAL 2
Edit
AWP/POSTAL 2 Complete
Edit
Paradise Lost
Edit
Projectiles
Edit
POSTAL 2
Edit
Corkscrew RuLes
Edit
AWP/POSTAL 2 Complete
Edit
Paradise Lost
Edit
POSTAL 2
Edit
AWP/POSTAL 2 Complete
Edit
POSTAL 2
Edit
AWP/POSTAL 2 Complete
Edit
Launchers
Edit
POSTAL 2
Edit
AWP/POSTAL 2 Complete
Edit
Paradise Lost
Edit
POSTAL 2
Edit