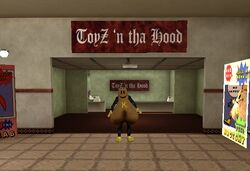 Toyz 'n tha Hood is a toy store located at the West side of the Paradise Mall. One of the errands the Postal Dude must complete on Thursday is to get a Krotchy Doll, which is sold only at Toyz 'n tha Hood. In the Thursday edition of Paradise Times, it is noted that Krotchy has got his own day, which prompts the Postal Dude to suspect that Paradise's mayor has stocks in Toyz 'n tha Hood.
When the Postal Dude arrives to the store, Krotchy tells him that there are no more Krotchy Dolls left, but that he can get a Larry the Crab doll instead. The Postal Dude decides to get into the "Employees only" area, which prompts the workers of Toyz 'n tha Hood to immediately attack him. The Postal Dude eventually finds one Krotchy Doll left at the very back of Toyz 'n tha Hood, but some Police officers storm the place to arrest him. Once the Postal Dude exits the "Employees only" area, he is confronted by Krotchy himself and a boss fight ensues.
Alternatively if the player has an autographed copy of What I'm Talkin' Bout, he can trade with Krotchy and get one that way, avoiding conflict. Giving Krotchy all your money is another option.
"Toyz 'n tha Hood" is a take on the 1987 hit single "Boyz-n-the-Hood" by late rapper Eazy-E, as well as the 1991 hood drama film of the same name.

It also happened to be the rejected working title for Toy Story while the movie was still in development.
Community content is available under
CC-BY-SA
unless otherwise noted.