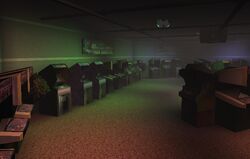 Quarter Vortex is a video arcade located at the West side of the Paradise Mall. The arcade is home to several video games developed by Running With Scissors.
Such games include Fag Hunter, Sym Homeless, Bastard Fish, Coin Gobbler, and Avengers.
Though protestors of RWS and violent video games, a group of Parents for Decency is seen playing at Quarter Vortex on Thursday and Friday.