We're Getting Mutants in the MCU - The Loop
Play Sound
The POSTAL 2 Editor (or POSTed for short) is a software development kit for POSTAL 2.
Overview
[
]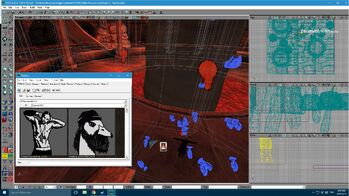 Originally bundled with Share the Pain, POSTed is a modified version of Unreal Editor 3 (Not to be confused with Unreal Engine 3 Editor) used to make mods for POSTAL 2. This includes building levels from scratch, making real-time cutscenes (via Unreal Matinee), and decompiling Unrealscript files.
Steam version
[
]
The current iteration can be found as part of POSTAL 2 Complete and includes the Unrealscript Source files of POSTAL 2 Complete, Apocalypse Weekend, and (if you own it) Paradise Lost. This updated editor includes a built in uploader to the steam workshop and a convenient "Play it from here" function.
Tutorial Resources
[
]
Unreal Developer Network Website
[
]
A full course tutorial in using the UnrealED can be found here. This includes: Level building, Map optimization, Lighting, Special Effects, and Unreal Matinee.
https://docs.unrealengine.com/udk/Two/SiteMap.html
Note that while this resource is aimed at the latest version of Unreal Tournament 2004's editor, most of it still applies to PostED.
Running With Scissors tutorials
[
]
Nathan Fouts (former programmer for Running With Scissors) wrote many tutorials for coding, map creation, and not shooting yourself in the head from stress. These tutorials are no longer on the Running With Scissors website but have been archived on Moddb.
https://www.moddb.com/games/postal-2/tutorials
In addition to the above, several tutorials can be found on POSTAL 2 Complete's steam workshop forum. This includes a basic overview of POSTed, a hotkey list, and uploading to steam workshop
https://steamcommunity.com/workshop/discussions/18446744073709551615/558754899443616474/?appid=223470
3dbuzz tutorials
[
]
Before its demise, 3dbuzz was a website with hundreds of video tutorials dealing with various subjects of game development. These videos are still available for free on youtube or downloadable via bittorrent.
Trivia
[
]
The name is a modified version of "UnrealEd" except with "POSTAL" instead of Unreal.
External Links
[
]