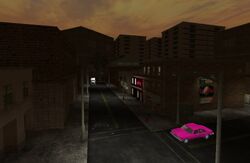 Downtown
is the second setting in the third party mod
Eternal Damnation
. As the name suggests, it consists of the downtown of the city of
Hasselridge
. When
John Murray
escapes from
Happy Hill Asylum
, he goes to the downtown, where the
apartment of his girlfriend
Lorie Heath
is located. As soon as he arrives, a group of gangsters attack him, as he is immediately recognized as the mental escapee. After the attack by the gangsters, a group of butchers also attack him.
When John finally arrives to where Lorie's Aparment is located, he is confronted by a SWAT team. He must kill 10 SWAT agents. After doing so, another group of gangsters is shown planning another attack on John, but a SWAT officer arrives, shoots them but in the process he blows a car, causing an explosion that kills the gangsters and himself. An elevator opens so that John can get access to the building.
The Downtown offers several services:
Dewey, Phuckem & Howe: an attorney office for divorces, malpractices, accidents, etc.
Cinema
The Snip: a barber shop
Ho Dee Doh: a massage parlor
Francesco's Boom Boom Shack
J. Dixon and Son: a "family butcher"
Within all these locations, and atop the buildings, John can find weapons, ammo and health items.
Community content is available under
CC-BY-SA
unless otherwise noted.