The Can of gasoline is a weapon featured in Postal 2 and Postal 3.
"By itself, the Gasoline is almost harmless. By holding down the fire key, you can pour it out and create a giant puddle. And you can pour it while moving to create a trail. And you can get it to drip off edges and run down hills. All of which leads to the secondary fire key, which strikes a match and tosses it. You have an infinite supply of matches, so toss as many as you want. But work quickly as gasoline tends to evaporate over time..." — The can of gasoline's description in the manual

The Can of gasoline first featured in Postal 2. Its main function is to pour gasoline over the chosen object or person, which can then be lit by throwing a match at the spot with secondary fire. It can also be used strategically by lighting yourself on fire, and then approaching another person or animal, instantly lighting them on fire if they get too close.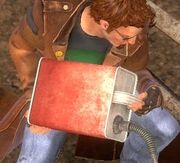 The can of gasoline reappears in Postal 3, and has the same function as it's predecessor in Postal 2.
The only known difference is it's name, which has been changed to "Gas Can".
Although it clearly says "1 Gallon" on the can, the player can have a lot more.