A Very Postal Christmas
(or AVPC for short) is a Christmas themed mod for
Postal 2.
This Modification gives new maps, storyline, NPC`s and weapons all to do with the Holiday Spirit.
The game starts off in the Postal Dude's trailer, where he has hauled it into a snow capped town for the holidays. He has settled in a small trailer park at the edge of the town and decides to go out and complete some of his own errands.
A new town to run around in.
New weapons.
Brand new dialogue for the Dude.
Soundtrack done by Neurological
New Errands.
Santa Claus makes an appearance.
Gremlins make a cameo.
New HUD and Running Meter (Not present in Steam version).
Development
Edit
The initial version of this mod was created by Oagh (a member of Resurrection Studios) with a soundtrack done by Neurological and some new lines for the Postal Dude recorded by Rick Hunter. Initial release was in 2007 and technically still in beta as it did not have a working map or properly coded errands.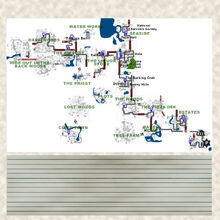 Steam Version
Edit
The project came into a standstill for many years without explanation until it was later ported over to the steam version in 2015 by a modder named awgsknite with Oagh's blessing. With the help of another modder named darth_fabar, a working map with errands and a bus system/fast travel were implemented.
The mod is known to lag on many computers as it is technically still in beta.
The title theme is "Mr Hankey the Christmas Poo".
Strange enough, the 10th Anniversary version plays "A Very Postal Christmas". Presumably for copyright reasons.
This mod was packaged with AWP and Eternal Damnation as part of the 10th Anniversary.